Obstetrical Sonography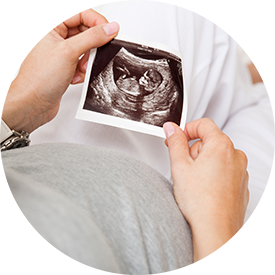 During the course of prenatal care, the physicians of Alliance Ob/Gyn will perform sonograms to evaluate the progression of your pregnancy. Both offices are equipped with the latest, and in our opinion, the best ultrasound equipment available, the GE Voluson 730. This is the premier 3D/4D machine available in the United States. We feel that all of these sonograms are medically necessary. Insurance companies do not. You are not responsible for the payment of any sonogram that is not covered by your insurance company; however, if there is a co-pay or co-insurance associated with your sonogram, you will be responsible for those. Routine sonograms are included for our private pay (uninsured) patients.
Initial (Early First Trimester) Scan
We normally like to see you for your first visit approximately two weeks after your missed period (unless you are at risk for an ectopic or tubal pregnancy). At your initial visit a vaginal sonogram is performed. The initial sonogram tells us three things:
There is just one baby, or it will diagnose twins
It will confirm your due date. The first trimester sonogram is much more accurate than later sonograms.
It is very reassuring that the pregnancy is progressing as it should. Unfortunately, in any pregnancy there is a 15%-20% chance of miscarriage, but after a normal heart beat is seen that chance is reduced to 3-4%. A normal heart beat is usually seen between five weeks and six days and six weeks and two days. If a heart beat is not seen, we like to see you weekly until a viable pregnancy is confirmed.
First Trimester Anatomy Scan
At 11-12 weeks another scan is performed. An initial vaginal sonogram is performed followed by an abdominal scan if necessary. During the anatomy scan the following systems are evaluated:
Embryonic Growth
Limbs
Neural tube (spinal cord and brain)
Anterior Abdominal Wall (looking for defects such as omphalocele and gastroschisis)
Nuchal Translucency measurement (an independent risk factor for chromosomal abnormalities and cardiac defects)
Second Trimester Anatomy Scan
At 20 weeks a thorough sonogram of the baby's internal organs is performed including evaluation of:
Fetal Growth
Gender
Cranial / Spinal Anatomy
Cardiac Anatomy
Abdominal Anatomy
Evaluation of Placenta and Amniotic Fluid
Third Trimester Growth Scan
At 32 weeks a sonogram is performed to evaluate fetal growth as well as the placenta and amniotic fluid. This third trimester scan is above what is considered standard of care in the United States.  We are generally not paid for it, but feel it is important.